Home > Products > Collection 2
Indian Impressions - Collection 2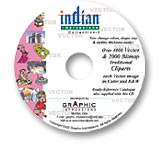 Complete details of this product has been given under Product Information.
Various categories are available in this collection and the same can be seen in Categories.
Each image has been displayed in Catalogue form and every page of the Catalogue can be viewed through View Catalogue.
Image description of images available in this collection has been provided in our link of Image Description.
Clipart for free downloads are given under Downloads.
The vector images in this Indian clipart collection include typical Indian scenes & cartoons, business-oriented situations & cliches, images of Food, Garments, House objects, Jewellery, Plants, Shapes, Symbols indicating various signals, Toys, Transport, Weather. Also the collection includes maps of India statewise as well as district-wise. All these created especially for this package.
The bitmap images include color photographs of typical Indian day-to-day scenes, landmarks, sites, regional and cultural scenes etc, scanned at a high resolution to ensure the superior quality for offset printing / web-page designing.
Indian Impressions Collection 2 has been initially released as Pratima 2 and Pratima Collection Set through Modular and as Pratibimb by C Dac. If you already have this with you please note that the same cliparts are available in Collection 2 except maps. Upgraded maps have been added in Collection 2.
Price :
Rs. 1999.00 [US $ 51.00] with catalogue in PDF format.

For more details please click on the following links: