Home > Products > Collection 1
Indian Impressions - Collection 1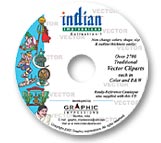 Complete details of this product has been given under Product Information.
Various categories are available in this collection and the same can be seen in Categories.
Each image has been displayed in Catalogue form and every page of the Catalogue can be viewed through View Catalogue.
Image description of images available in this collection has been provided in our link of Image Description.
Clipart for free downloads are given under Downloads.
There is an entire category dedicated to ready-made theme-based borders. Also the collection includes clipart in various categories like Celebration, Religious symbols, Gods and Goddesses, Indian jewellery in traditional style, Satnarayan puja, Naming, Thread & Engagement Ceremony symbols, Maps of India (state-wise), Images of God Ganesh, Marriage symbols & Processions (Baaraat), Wedding scenes, Decorative corners, Ready-made frames for A4 and 5" x 7" size, Past and current Indian Personalities and many more.
Indian Impressions Collection 1 has been initially released as Indian Impressions 2000, Pratima 1 and Pratima Collection Set through Modular. If you already have this with you please note that the same clipart are available in Collection 1 except maps. Upgraded maps have been added in Collection 1.
Price :
Rs. 1499.00 [US $ 40.00] with catalogue in PDF format.

For more details please click on the following links: